Lock-N-Seal™ Coliform Water Sampling Vials

(Manufacturer by Excel Scientific).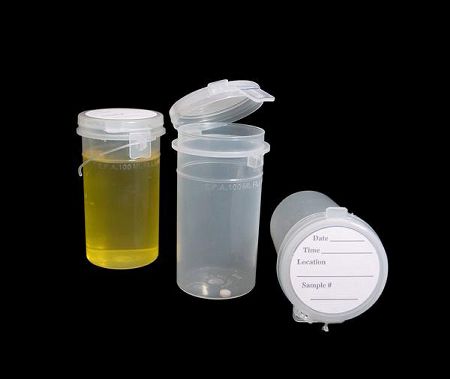 Sterile: Yes
Size: 120 ml / 4.0 oz
Graduations: 100.0 ml / 3⅓ oz Measuring Ring
Outside Dimensions: 46.5 mm x 91 mm (W x H)
Qty/Case: 200
These snap-cap vials are air-tight & leak-proof, Excel Lock-N-Seal™ vials are ideal for all types of sampling and storage needs in the food, dairy, cosmetics, petroleum, and environmental industries.
These 120mL sterile, hinged-cap vials meet all EPA requirements for microbiology sampling. Collection, incubation and accurate reading can all be done in the collection vessel without a transfer strap. They are made of durable, contact-clarity polypropylene and will not break or shatter like polystyrene containers. Increased clarity facilitates in-vial colorimetric and UV methods. Lock-N-Seal™ security latch prevents opening during transit. Arrow locking device ensures sterility before use. The 100mL raised fill line makes sample collection easy. Available with or without a sodium thiosulfate tablet to neutralize the effects of chlorine in drinking water samples. Also they are available with or without a chain of custody tie. Also they are available with or without a pre-applied label. A certificate of sterility is available upon request. Compatible with Idexx's Colilert® method of testing; both colorimetric and UV. Manufacturer by Excel Scientific.
Call for Pricing
CA of 200 Without Tablet, Label or COC Tie
22-4954-21-CS
EA Without Tablet, Label or COC Tie
22-4654-21-EA
* NOTE - SHIPPING: All Prices are F.O.B. Manufacturer's Factory. We will work with you on the best way to ship based on cost and date needed

Return to Products Page