Rugged. Accurate. Reliable.
• Shockproof
• IP67 Waterproof
• Also accepts standard BNC probes
• Floats
• Protective soft-grip outer layer
• Rechargeable Lithium Ion battery
AquaShock
®
meters have been designed and tested to ensure accurate, reliable water quality
measurement under any conditions. The integral soft-grip outer layer provides a firm grip, even
in wet environments, and an anti-shock LCD, and other high-end components, further ensures
that AquaShock
®
is fully shockproof. AquaShock
®
meters are also IP67 waterproof and
will float if accidentally dropped in water. The screw-down probe connections are watertight
when used with AquaShock
®
probes, while a standard BNC connector underneath enables
use of any pH probes with BNC connectors.* The latest high performance electronics give
AquaShock
®
meters extremely stable and accurate readings. Results are easy to read, in any
light, on the large LED backlit display. Powered by a long-lasting, environmentally friendly,
rechargeable, Lithium-Ion battery. AquaShock
®
meters are very intuitive and include all the
functions you will likely ever need including:
• Review of 99 memories, min-max-avg, directly on the meter's display
• Internal clock and calendar
• ºC & ºF
• Auto-ranging
• Automatic and manual temperature compensation
• Hold
Sper Scientific guarantees you will find no meter more rugged and reliable than AquaShock
®
.
* Connections are not waterproof when used with non-AquaShock
®
probes.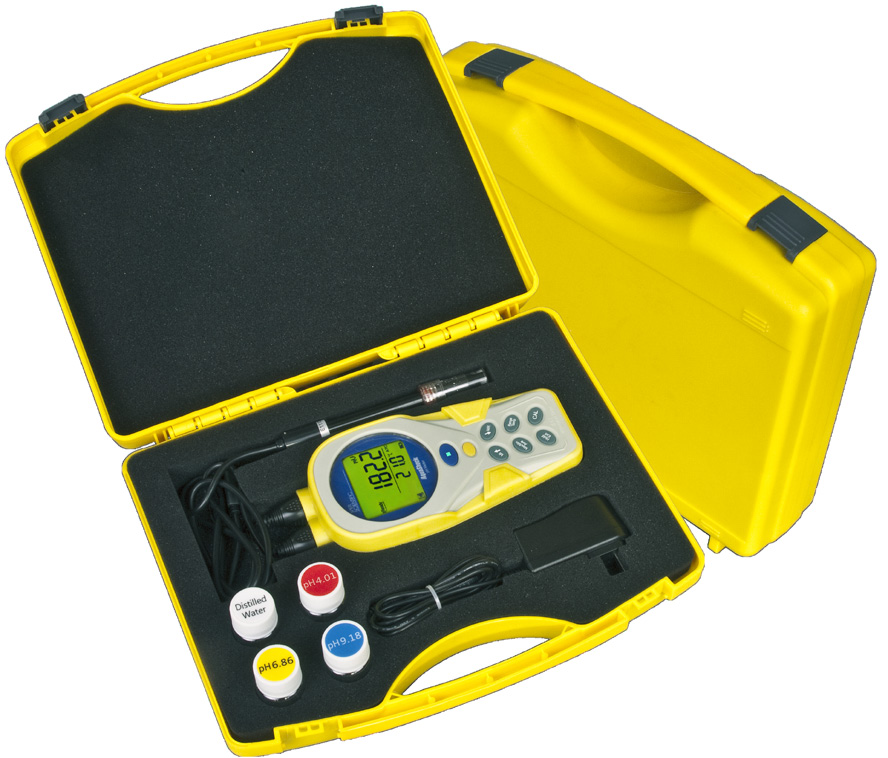 AquaShock® pH Kit 850046K

Includes AquaShock
®
DO Meter 850046; AC adaptor; manual; warranty card; probe input covers;
ATC DO probe with 10' cable; protective, foam-lined, hard-shell carrying case.
• Measures DO (Dissolved Oxygen) in either % saturation, ppm or mg/L
• Accepts corrections for salinity and barometric pressure
• Automatic calibration to air
• Recalls slope and last calibration
AquaShock
®
is virtually unbreakable, eliminating the inconvenience of frequent instrument repair or replacement for at least 5 years of interrupted, accurate, reliable use.
Dimensions: 8¼" × 4¼" × 2¼" (210 × 108 × 57 mm)
Weight: 1 lbs (476 g)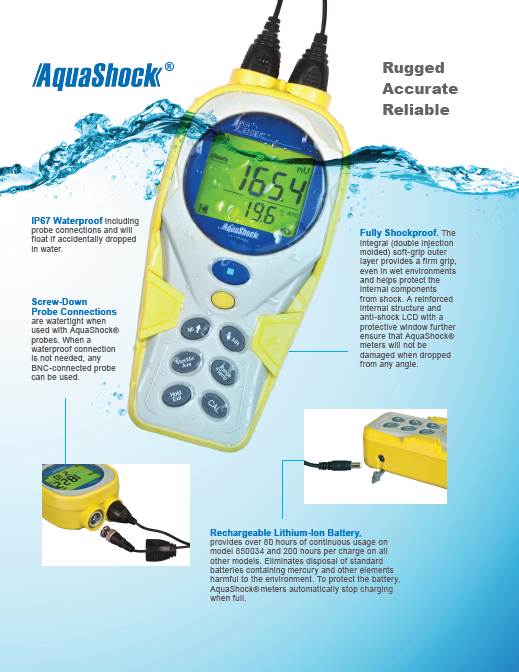 Specifications §
Mode
mg/L (ppm)
% Saturation
Temperature
Range
0.00 ~ 19.99 mg/L (ppm)
0.0 ~ 199.9%
32 ~ 122.0°F (0.0 ~ 50°C)
Resolution
0.01 mg/L (ppm)
0.10%
0.1ºF or 0.1ºC
Accuracy
±1.0% Full Scale
±1.0% Full Scale
±0.9°F or ±0.5°C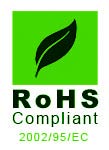 | | | |
| --- | --- | --- |
| Part Number | Description | Price |
| 850046K | - AquaShock® DO Kit with 10' Probe Cable | Call for Pricing |
| 850046K25 | - AquaShock® DO Kit with 25' Probe Cable | Call for Pricing |
| 850046k50 | - AquaShock® DO Kit with 50' Probe Cable | Call for Pricing |
| 850046P | - Replacement AquaShock® ATC DO Probe with 10' Cable | Call for Pricing |
| 850046P25 | - Replacement AquaShock® ATC DO Probe with 25' Cable | Call for Pricing |
| 850046P50 | - Replacement AquaShock® ATC DO Probe with 50' Cable | Call for Pricing |
| 840092 | - Bench-Top Tripod | Call for Pricing |
| 840093 | - Field Tripod | Call for Pricing |