Rugged. Accurate. Reliable.
• Shockproof
• IP67 Waterproof
• Also accepts standard BNC probes
• Floats
• Protective soft-grip outer layer
• Rechargeable Lithium Ion battery
AquaShock
®
meters have been designed and tested to ensure accurate, reliable water quality
measurement under any conditions. The integral soft-grip outer layer provides a firm grip, even
in wet environments, and an anti-shock LCD, and other high-end components, further ensures
that AquaShock
®
is fully shockproof. AquaShock
®
meters are also IP67 waterproof and
will float if accidentally dropped in water. The screw-down probe connections are watertight
when used with AquaShock
®
probes, while a standard BNC connector underneath enables
use of any pH probes with BNC connectors.* The latest high performance electronics give
AquaShock
®
meters extremely stable and accurate readings. Results are easy to read, in any
light, on the large LED backlit display. Powered by a long-lasting, environmentally friendly,
rechargeable, Lithium-Ion battery. AquaShock
®
meters are very intuitive and include all the
functions you will likely ever need including:
• Review of 99 memories, min-max-avg, directly on the meter's display
• Internal clock and calendar
• ºC & ºF
• Auto-ranging
• Automatic and manual temperature compensation
• Hold
Sper Scientific guarantees you will find no meter more rugged and reliable than AquaShock
®
.
* Connections are not waterproof when used with non-AquaShock
®
probes.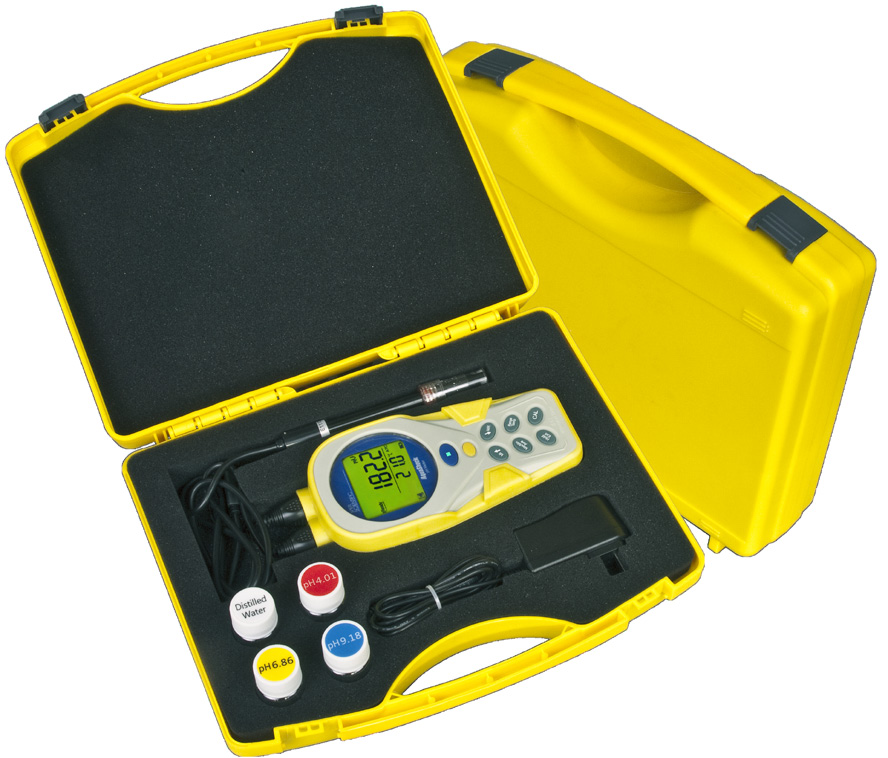 AquaShock®
Water Purity Kit 850034K
• Determine water purity in applications such as coolers, waste water, environmental testing, aquariums
and industrial quality control
• Measures conductivity in mS or uS, TDS (Total Dissolved Solids) in ppm or ppt, and temperature
• Recalls last calibration points
Includes AquaShock
®
Pure Water Meter 850034; ATC conductivity / TDS probe; AC adaptor;
manual; warranty card; probe input covers; protective, foam-lined, hard-shell carrying case.
Dimensions: 8¼" × 4¼" × 2¼" (210 × 108 × 57 mm)
Weight: 1 lbs (476 g)