CARLSBAD, CA . . . Torrey Pines Scientific announces its NEW EchoTherm™ Programmable Corrosion Resistant Digital Stirring Hot Plates for use with aggressive chemicals in environments where other stirring hot plates would be quickly destroyed by vapors or spills.
The EchoTherm™ Model HS70 Programmable Stirring Hot Plates are designed to be purged using an inert gas through a fitting on the rear of the chassis. Purging provides a positive pressure inside the unit to prevent corrosive gasses from entering the chassis and attacking the electronics or stirring mechanism.
These units feature 10-program memory with 10 steps per program, temperature ramping, RS232 I/O port, membrane keyboard, and full function liquid crystal display where all parameters are continuously visible.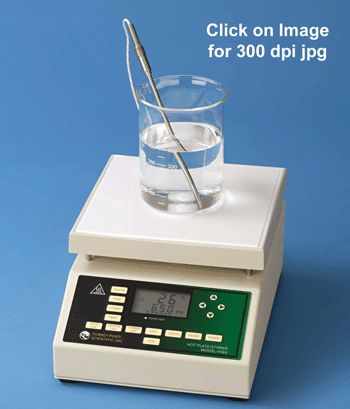 Heater tops are 8" square solid ceramic with 600 watts of power. Temperatures can be set to 450°C. The units are readable and settable to 1°C. Accuracy is 1% over the entire temperature range.
Temperature control is by PID software and is controlled to ±1°C or ±1ºF. Stirrer speeds can be set from 100 to 1500 rpm. Temperature ramping can be set from 1ºC/hour to 450ºC/hour in 1ºC increments.
The built-in timer is settable to 99 hours and is readable to 1 second. It has an audible alarm with user settable auto-off for turning off the heater and stirrer when the timer counts down to zero. The units are supplied with a 6" Teflon immersion probe for controlling solution temperatures directly.
All units are available in 100, 115, and 230 VAC, 50/60 Hz models. They are "Made in the USA" and are UL, CSA and CE or equivalent agency certified and available in voltages for use anywhere in the world.
Programs can be simple or complex depending upon the need. Multiple temperatures, temperature ramp rates, stirring speeds and timed events can be stored. When run, the unit monitors the program to be sure it runs exactly as written. Complete walk-away automation.
The chart above shows a typical program that can be stored in memory and run at any time. The program can also be instructed to repeat itself from 1 to 98 times, or infinitely if wanted.
---
Features:
10-program memory stored in CMOS. No batteries required

Each program can be 10 steps, where each step includes a temperature, stirring speed, time and heating rate

Repeat any program 1–98 times automatically. Infinite repeats settable

Programmable and non-programmable operation

Platinum RTD temperature measurement for ±1% accuracy

8" solid ceramic heater top for quick heating on a flat, white, chemically resistant surface

Settable to 450˚C in 1˚ increments

Temperature ramping for exact heating and cooling rates

PID temperature control to 1°C on plate surface or solution with probe

Stir up to 4 liters of aqueous solutions from 100–1500 rpm

Timer goes up to 99 hours, 59 minutes, 59 seconds with user settable Auto-Off

6" Teflon® probe provided

Electronic calibration stored in CMOS

RS232 interface for control or recording data on a computer

NTP pipe-to-pipe, ¼" purge gas fitting on rear of chassis

12-month warranty

UL, CSA and CE compliant
---
Product Specifications:
Programming:

Memory capacity
10 programs
Individual Program Capacity
10 steps
Repeat a program automatically
1 to 98 times or infinitely
Temperature Measurement:

Platinum RTD
100 ohm at zero in plate and in probe
Range
0–450°C
Readability
1°C
Hot Plate:

Dimensions
8" (20.3 cm) x 8" (20.3 cm)
Maximum plate temperature
Ceramic 450°C
Temperature control type
PID
Temperature accuracy
1% ±
Temp stability
1°C
Heater power in watts
600 watts
Stirrer:

Speed range unloaded
100–1500 rpm
Readability
1 rpm
Settability
nearest 10 rpm
Electrical:

Available in
100, 115 and 230 VAC, 50/60 Hz, 600 watts
Fused
both high and neutral lines
Line cord
Detachable, 6 foot (1.8 meter), three-wire grounded
Dimensions:

Dimensions unpacked
Width
9.125" (23.18 cm)
Depth
15.75" (40.01 cm)
Height
4.75" (12.07 cm)
Dimensions packed
Length
18.25" (46.36 cm)
Height
9.5" (24.13 cm)
Width
12.25" (31.12 cm)
Weight, unpacked
12 lbs (5.4 kg)
Weight packed for shipment
14 lbs (6.3 kg)
---
Accessories Available:
HS30-600 Probe, Immersion, 6" stainless steel
HS30-601 Probe, Immersion, 10" stainless steel
HS30-602 Probe, Immersion, 6" solid Teflon
HS30-603 Probe, Immersion, 6" solid glass
HS30-604 Probe, Immersion, 9" solid Teflon
HS30-700 Temperature Probe Calibration Kit
HS30-800 Plate and Probe Calibration Kit
---
Price:

| | |
| --- | --- |
| HS70 EchoTherm™ Digital Stirring Hot Plate | Call for Pricing |
---
To obtain additional information contact:


Hawaii Chemical & Scientific
2363 N King St
Honolulu, HI 96819
Ph: (808) 841-4265 Fax: (808) 842-1067
Email: Sales@HawaiiScientific.com